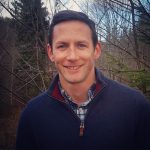 Green Mountain Farm-to-School (GMFTS), a nonprofit that works to connect farms, schools, and communities through food and education, has welcomed James Hafferman as their new executive director. He took over leadership of the organization in January as the founding executive director, Katherine Sims, transitioned to development director.
"James brings a wealth of experience in financial management, fundraising, nonprofit leadership, and strategic planning," said Dr. Robert Kern, chair of GMFTS' Board of Directors, in an emailed letter to the community, "[He] is passionate about food systems and building sustainable infrastructure and is excited to bring his strong organizational development skills to help grow GMFTS and its service to the Northeast Kingdom."
Hafferman comes to GMFTS from Salvation Farms, a nonprofit based in Morrisville, Vt. that seeks to build increased resilience in Vermont's food system through agricultural surplus management, where he currently serves as the director of administration and development. Over his 16-year career, Hafferman has held key leadership positions with a variety of organizations. For example, as the chief operating officer of CLASP, an international energy efficiency nonprofit in Washington, D.C., he was instrumental in managing and developing the organization from a small start-up to a global presence.
He was selected for the executive director position after a nation-wide search that yielded nearly 40 applicants. A committee of Board of Director members, staff, and community members made the selection.
"Our goal in this search was to find a candidate who could build on the foundation already established at GMFTS and lead the organization to even greater results," said Kern.
The process to select a new executive director began after Sims announced her transition to development director in late March 2016.
"This is an exciting time for Green Mountain Farm-to-School as it evolves from a rapidly growing startup to an established, mature organization," said Sims, "I am confident that James is going to be a tremendous leader and the Northeast Kingdom community is going to benefit greatly having him at the helm of the organization."
A leader in the growing farm-to-school movement in Vermont, Green Mountain Farm-to-School (GMFTS) mission is to restore and strengthen local food systems in the Northeast Kingdom of Vermont by promoting positive economic and educational relationships among schools, farms, and communities. We create healthy communities by working across the food system with capacity building, resource development, and technical assistance through GMFTS' school gardens, Farm-to-School Program, food hub, food truck, and statewide marketing campaign.
Tags: agroculture, food, hiring, human resources, sector, sector news, spotlight