Vermont nonprofit advocates gathered at the Statehouse on Thursday, March 23rd to meet with new leaders and get the latest on key policies and budget cuts promised by state and federal lawmakers.
Common Good Vermont hosted Vermont Legislative Day 2017 with a full morning of panels and afternoon of committee meetings. More than fifty nonprofit organizations were represented by leaders from across the state. Watch all of the video here. (Loads slowly)
The morning began with welcomes and introductions from newly elected Speaker of the House Mitzi Johnson and Senate President Pro Tempore Tim Ashe.
Senator Ashe explained that the budget situation created "a cloud" over the Legislature which affects all sectors of the state. Yet he struck a positive tone:
"We have a $6 billion budget. When we walked into the building today we were talking about a $60 million gap. The basic math here is that is 1% of the whole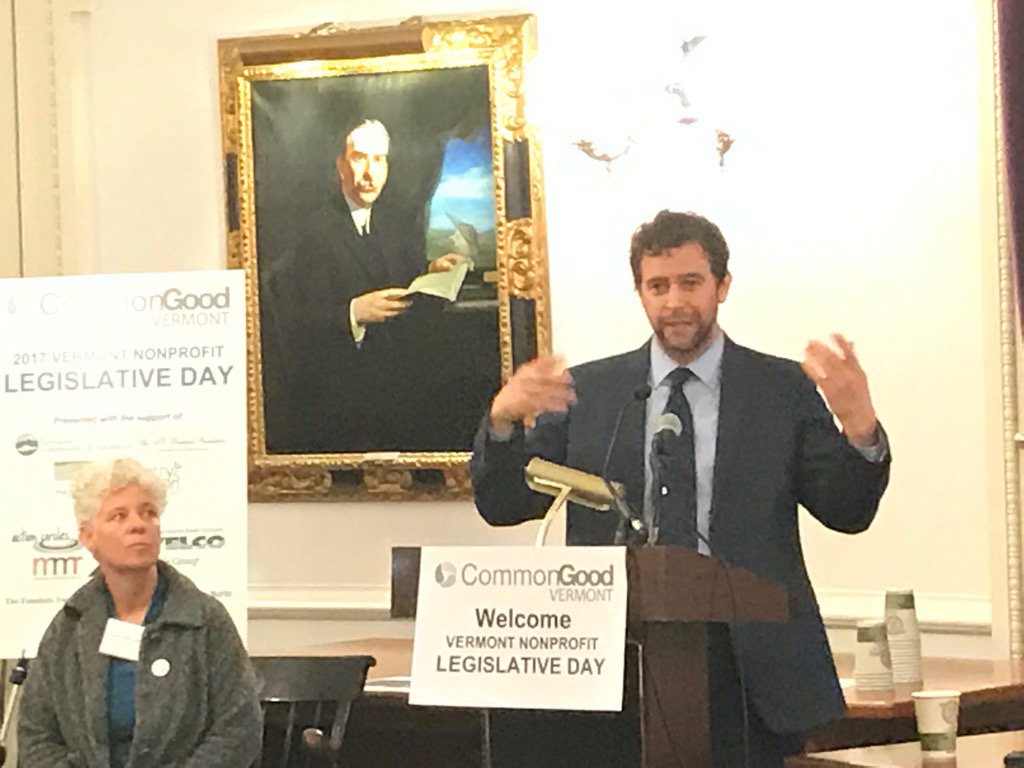 budget. That means the Governor, House, and Senate essentially arrived with 99% agreement and now we are talking about that marginal one percent, which unfortunately is the 1% that will affect all of your organizations. But by and large we are preserving all of the wonderful things that policy makers over decades have built into the state budget. The good news is that our base level for most of the activities in state government is one of the most inclusive, forward looking state policies that you will find in America. This building is about arguments not celebration. Every year that we argue about the marginal stuff we should be celebrating the bulk of what goes on here."

Senator Ashe was also interested in hearing about nonprofit experience with Results Based Accountability (RBA) in order to determine if the process is onerous and detracts from their work. Several attendees reported that RBA helps them to be more effective. There were also reports that state agencies still had not fully streamlined their reporting requirements.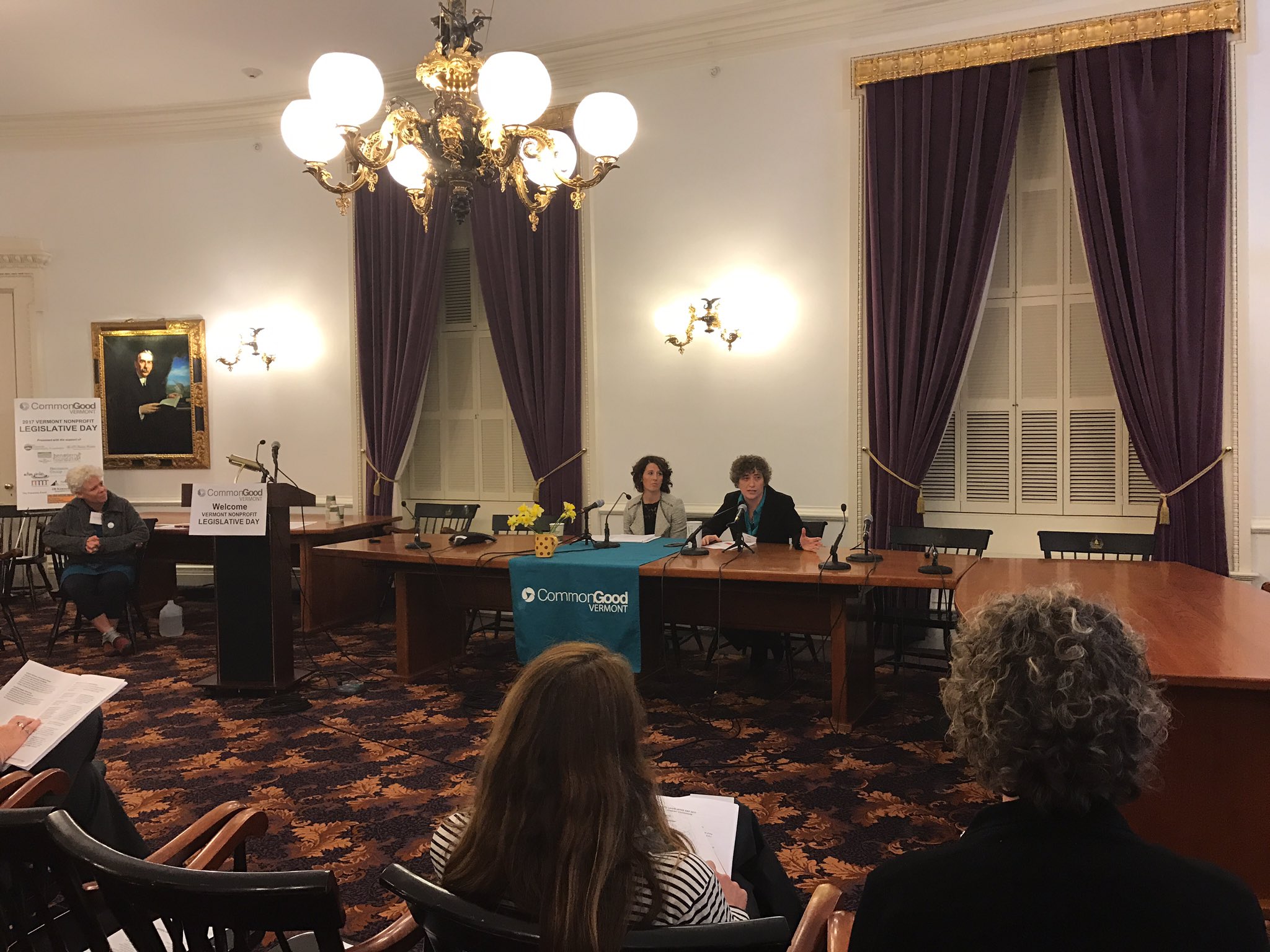 Successful Advocacy Initiatives/Best Practices: Looking to successful advocacy efforts, the program turned to Amy Shollenberger (Action Circles) and Danielle Lindley (Northwestern Counseling and Support Services) who spoke about the coalition building work of Vermont's Parent Child Centers, now known within the legislature as an effective statewide network. Danielle Lindley explained:  "When we first started we were a group, we were random and we were not effective." Now the coalition has a point person who helps to get them on the agenda to testify, strengthened their communication, allowed them to prioritize as a network, built relationships with state partners and legislators, and streamlined their work into a Results Based Accountability framework on a local and state level.  "It has allowed us as a group to send a consistent message. Legislators now know what Parent Child Centers are."
Legislative Briefing & State Budget Review: Jessica Oski (Necrason Group) provided a short briefing on key issues. She started with the important news: "Vermont is number one in the country in health care access, quality, outcomes, equity, prevention and treatment, avoidable use and costs. We are number one, even though we know we have work to do." Jessica warned that changes to the Affordable Care Act would have a devastating affect on health access to Vermonters (fortunately, the bill did not move forward in Congress). Vermont is moving to an "all payer" pilot in Medicaid to transition Vermont from paying for health care to a fee for service to pay for quality system. It is innovative and could result in healthier people.
Jessica also reported that the minimum wage increase to $15/ hour may not happen this year. Currently there are legislative efforts to address the "benefits cliff" that results from wage increases that ultim
ately reduce benefits and make it overall more expensive for low wage working Vermonters. Jessica believes that some form of paid family leave will pass this year, while the details of sharing the costs are being worked out. Legislators are working to decriminalize possession of small amounts of marijuana. Small steps are being taken toward "tax and regulate" but not likely to happen this year.
Overall, Jessica urged nonprofit leaders to speak up and be heard. Legislators are influenced by public input. "You need to speak up and make it clear what [legislative decisions]  will do for the people that you serve. If you don't, bills will go forward. It really matters. This is a small place and your voices do count."
Stephanie Yu (Public Assets Institute) gave a quick and complete overview of how the Vermont State Budget works and possible approaches to the budget gap that is worth a listen (see 15 minutes into the video program). She also leads One Vermont, which focuses on big picture issues that affect people across the state.
 Governor Phil Scott stopped by to say that "it is important for us to pull in the same direction and have our voices heard." Regarding the current FY18 federal budget proposals, Governor Scott said that "the budget won't be enacted as it stands because I have faith in the Senate. Whatever happens, we have contingency funds set aside in the budget I presented, but we may need to have a special session [in the Fall]. We will continue to work as hard as we can, with our Congressional delegation and other states to find solutions."
Alternative Funding: Vermont Social Impact Bonds: Liz Ruffa reported on Common Good Vermont's efforts to research and building partnerships in an effort to prepare Vermont to take advantage of social impact bond opportunities. You can read her remarks here.
Impact of Federal Actions on Vermont: Finally, several Vermont leaders gathered to discuss the impact of federal policies and proposed budget cuts on Vermont. John Killacky (Flynn Center for the Performing Arts) spoke about the impact of cuts on Vermont's the state's arts, culture, museum community. He addressed the erosion of services, impact on employment and affect on the local economies.
Martha Maksym, the new Deputy Secretary of the Vermont Agency of Human Services is watching federal actions very closely. "Overall there is not a lot of wiggle room." For example, when LIHEAP is threatened, that is $19 million that will be difficult to find. We will know more in May. "The numbers are alarming. My optimist side says that we are nimble and innovative. But the loss of this level of funding is a game changer."
Amila Merdzanovic (Executive Director, Vermont Refugee Resettlement Program) explained the background on the program and the 35 year history
of welcoming refugees to the state. VRRP is deeply interconnected with social support, employment and education programs across the Vermont. The program "very much" depends on federal dollars and are already seeing the impact of presidential proclamations on the services they provide and the people they provide. This year, the number of refugees will be reduced by 50%, which will have an impact on housing rentals and filling jobs–not to mention the diversity of our state.
Kate Ash (Field Representative for Senator Patrick Leahy) explained that there is likely to be another omnibus budget continuance in May. So far, the federal budget uncertainty has already restricted access to grant monies. Because Congress–not the President–writes the budget, there is hope that bi-partisan action could preserve the programs close to Vermonter's hearts. That said, Kate reminded the room that their voices needed to be heard. Senator Leahy and the entire Congressional delegation needs to hear from Vermonters and nonprofit leaders about what they are accomplishing and what programs they want to preserve.
Participants were positive about the day and the opportunity to network, meet decision makers and learn about important legislation likely to affect their work. A sample of the feedback we received:
I gained a greater understanding of how things work at the legislative level. It was fascinating to hear how VT PCCs worked with a consultant to learn how to message for more money or for a bill. As an arts organization, the Vt Arts Council advocates on our behalf and I learned a great deal about the work and process that goes into advocating.
It is a wake up call that so many services are threatened on the Federal level that people take for granted (e.g. inter-library loans); a lot of the burden will fall to state and very geographically local services, which include PEG media centers.
Making face-to-face contact with Legislators and their legislative assistants is very helpful. It is worth a trip to the State House.
We are stronger together. We should lobby that VT does support VT nonprofits and services. We comprise 20% employment in VT.
Vermont's nonprofit sector is critical to the well-being of the state and should not be taken for granted!
SPECIAL THANKS TO: Action Circles, MMR, Necrason Group, DRM, JB Kennedy Associates, LLC. Anchor Funders: A.D. Henderson Foundation, Vermont Community Foundation, National Life Group Foundation, VELCO, High Meadows Fund, The Fountain Fund, C. Russell De Burlo, Ben & Jerry's Foundation. Media Partner: Channel 17/ Town Meeting Television / CCTV Productions.
Related Posts:
Tags: aca, ahs, arts, budget, culture, feature, humanities, marijuana, Mitzi Johnson, parent child, Pay for Success, phil scott, rba, spotlight, tim ashe, vt legislative day 2017, vtleg, vtpoli